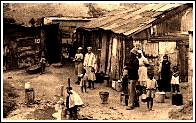 In 1957 lecturers from the then University of Natal saw wisps of smoke rising from the Cato Manor area and upon investigation found up to 400 children suffering from malnutrition in the squalid conditions of the developing squatter camp. Their parents, due mainly to poverty and unemployment, where squatting in the area as they could find nowhere else to live and wanted to be near the city in an effort to source work. Led by Dr Zelda Jacobson; a lecturer in Social Science; a dedicated team of doctors and health workers implemented a supplementary feeding scheme to help the starving children. With the assistance of the Union of Jewish Women, Feed the Babies Fund was established.  
Feed the Babies Fund's fight against malnutrition had begun and powdered milk and health cereals were distributed to the starving children through clinics. The motto in 1957 was "four pence a day saves a life" and at this point in time, funds were obtained from amongst others, the Cato Manor Appeal; sponsored by Round Table Club of Durban; the Community Chest and the National War Memorial Health Foundation, which adopted Feed the Babies Fund in the early 1960's when Dr Jacobson returned to Israel.
Under the administration of the National War Memorial Health Foundation; and working under their welfare number, Feed the Babies Fund continued to grow. Feed the Babies Fund got more established, cash donations were complimented by donations of milk and cereal from various local businesses and by the late 1970's 1 500 children were receiving supplementary feeding.
Through the assistance of the Voluntary Christian Services (VCS), a London-based organisation that assisted local charities with tried and tested fund-raising methods, two new ideas were introduced and implemented to assist Feed the Babies Fund in raising much-needed funds. Firstly, on 20 April 1977, a Gift Shop was opened in the upper mall of the Old Mutual Centre in Windermere Road (now the Windermere Centre in Morningside). VCS, who had four other shops in Durban raising funds for TAFTA, had secured the premises. The gift shop, called The Care & Share Shop, stocked good-condition redundant items donated by the public and all proceeds from the sale of these items were for the benefit of Feed the Babies Fund. Records are unclear, but it appears that the shop closed down in the late 1980's.
The second fund-raising initiative introduced by VCS; and also started in 1977; was our current schools project. Representatives from VCS came to Durban to train our Youth Organisers on how to raise funds from local schools through education and motivation, thanking them with a 'concert' and a certificate. Although the message has changed somewhat over the years, this still remains a source of fundraising for Feed the Babies Fund.
In 1978, the motto of Feed the Babies Fund changed to "10c a day keeps malnutrition at bay" and some well-known celebrities helped raise funds for Feed the Babies Fund. A big walk was held at Greyville Race Course where Mike Tomson, cousin of world champion surfer Shaun Tomson, led 1000 walkers; on behalf of his cousin; around 10 laps of the racecourse. At Windermere Centre, actor William Smith aka Falconetti of Rich Man, Poor Man fame, assisted in selling 1500 eye-patches with proceeds going to the Fund.
From the beginning of the 1980's, Feed the Babies Fund was supplying powdered milk and Pronutro to clinics and crèches identified by City Health. The services carried out by Feed the Babies Fund were still being done in conjunction and consultation with City Health and their clinics.
In the 1990's Feed the Babies Fund became independent, both in administration and in delivery of its service and in May 2000 received it's own NPO number. Pronutro eventually gave way to Amandla cereal and now Amandla Plus cereal is delivered; an enhancement on the original product. In 2009 we stopped supplying cereal through clinics and other welfare organisations and focused our service delivery on crèches. Today we deliver the cereal directly to crèches which have been identified and assessed by our field workers.
1957's 4p a day and 1978's R3 per month has increased to approximately R30 per month and the provision of supplementary feeding to 400 children a month in 1957 and 1 500 children per month in 1978, had risen to the feeding of over 7 000 children a day.
In 2012 Feed the Babies Fund started supplying blankets, clothing, educational items and toys in addition to cereal to our beneficiaries."
As of 2015, Feed the Babies Fund changed its focus from fighting malnutrition to Early Childhood Development. Today we train caregivers in ECD programmes and enhance the institutional capacity of crèches whilst still providing children with a nutritious cereal daily.
In line with this new focus; and in celebration of 60 years of dedicated service to our beneficiaries; in 2017 we revised our logo to better depict our focus on Early Childhood Development.